Join us for Jazz in the Library!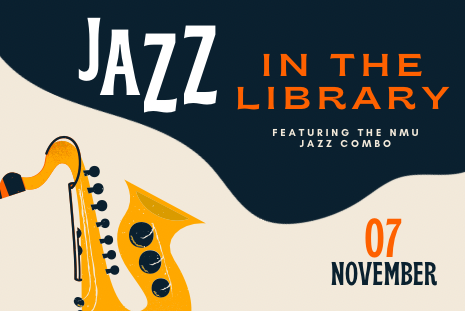 Dec 7 01:00 pm to Dec 7 02:00 pm
Join the NMU Jazz Combo on Wednesday, December 7th to get your study groove on. The musicians will be playing a mixture of jazz standards and holiday music from 1:00-2:00 p.m. in advance of finals week and winter break. So please stop by, sit back, and take some time to relax!
The ensemble is composed of the following musicians:
Owen Edwards - alto sax
Garrett Peacock - tenor sax
Ethan Matteson - piano/guitar
Eli Salin - bass
Quinten Mosher - drums
Dec 12 12:00 pm to Dec 12 01:30 pm
The Wildpups are a part of NMU's Animal Assisted Therapy program. If you miss your pup back at home or need a way to ease the anxieties that come with being a college student, the Wildpups are here to help. Students and faculty are welcome to enjoy time with these licensed therapy dogs.
There will also be a volunteer opportunity welcome for anyone to participate in research to help grow the field of Animal Assisted Therapy. Surveys will be available to fill out at the event. Registration is unlimited, and everyone is welcome to come.