News & Announcements
Tuesday, November 24, 2020
We are seeking a student worker who will contribute to the outreach initiatives of the Lydia M. Olson Library, with the goal of disseminating information about its value, events, services and resources and to engage the community it…
Sunday, November 22, 2020
You may now schedule curbside pickup for your holds. This service is available for any NMU, MeLCat, or Interlibrary Loan requests if you have received a confirmation message stating the items are available on the hold shelf.
…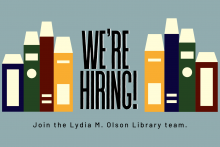 Thursday, November 19, 2020
We are hiring enthusiastic student workers to join our team for Winter 2021 and beyond! Interested in learning more about what this position has to offer? View the position listing here, and take some time to apply.
…