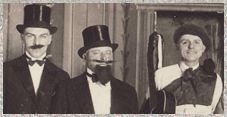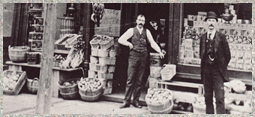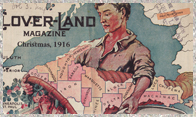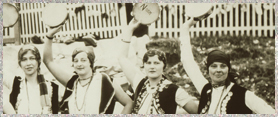 Jewish Immigrant History in the Central Upper Peninsula of Michigan
By Toby Rose
Professor of English Emerita
Northern Michigan University
From Where and When Did Immigrant Jews Come to the UP?
The history of Jews in the Upper Peninsula, the influx and subsequent emigration of early Jewish settlers, was to a great extent determined by the economic need for merchants in late 19th and early 20th century UP. Jews in large urban areas had many more opportunities for making a living and working towards their American Dream, but despite a few exceptions, most Upper Peninsula Jewish immigrants started out as peddlers whose nomadic clothing and dry goods businesses led to the establishment of permanent stores serving the families of miners and lumbermen. In the last half of the twentieth century, the economic factor was still prominent, but other variables caused the settlement, exodus, and sometimes the return of Jews to the Upper Peninsula.

Among the factors governing the recent migrations of Jews to and from the Upper Peninsula have been the dependency of elders on children who have migrated elsewhere, the need to access educational and vocational opportunities for their children not available here, and the effect of unstabile economic conditions. Younger generations have been able to find professional opportunities in the region close to home because of the recent growth of the "white-collar" economy in the Upper Peninsula. Thus, the vocations of Jews migrating to this area have depended to a great degree on whether they came during the mining and lumber boom or more recently.

According to historian Oscar Handlin, there were three major waves of immigration to the United States, and UP immigrant Jews were major players in two of the three. During the first half of the 19th Century Americans' attitudes toward immigrants was very positive, one could say welcoming. In the 1840s and 1850s immigrants faced little opposition because it was thought their differences were not that great and they would contribute to the melting pot.[1]

First Wave Jews came mainly from Germany or parts of Poland that were considered Western Europe. German Jews were often very secular, but even those who were more traditional or orthodox in their Jewish religious practices did not stand out from other immigrants in their day-to-day lives. Americans saw them as freedom-loving, hard-working, and anti-authoritarian. But the attitudes toward the second wave of immigrants who arrived from Eastern and Southern Europe (from 1880 to 1920s) were more hostile and exclusionary. These uneducated, peasants were often non-English speaking, dressed in "old-world" ways, and were religiously orthodox. Sometimes their disinterest in assimilation set them apart from and therefore offended more established groups, even Jews who had come in earlier waves of migration.[2]

Jews in the United States, and in Michigan in particular, had arrived by 1761 and even earlier in the New World in places like the Netherlands Antilles which laid claim to the first "new world" synagogue built in 1644 in Aruba. By the beginning of the Civil War in 1861, Jews had been trickling into Michigan for at least a hundred years. They participated in both the Union Army and the Underground Railroad that led slaves to freedom.

In Michigan, the first Jew was said to be Ezekiel Solomon, who in 1761 came from Berlin, Germany to Montreal and lived part-time in British Michigan in what was then called the "Upper Country" – officially part of Canada. He came by canoe to the British Fort Michilimackinac at the northern tip of the Lower Peninsula to trade furs and to sell supplies to British troops. Some of Solomon's fellow Montreal Jews who followed him to the wilderness area to do business were also from Germany: Gershon Levi, Benjamin Lyon, and Levi Solomons, while Chapman Abraham was originally from England.[3]

At this time the British had just conquered Michigan in the Seven Years War against the French and Indians. Solomon and Abraham who were captured and later ransomed provided the subject for a poetic story by early American author Steven Vincent Benet titled "Jacob and the Indians".[4] Eziekiel Solomon has been memorialized by a Michigan historical marker near the Mackinaw Bridge and an archeological excavation of his original cabin at the Michigan State Park at Fort Michilimackinac.
Immigrants in the Late 19th Century
Michigan in the second half of the 19th century was the history of lumbering and mining. This amazing boom both in harvesting of wealth-producing resources and jobs, also resulted in merchants and peddlers who outfitted the woodsmen and miners' families. Most of these peddlers turned merchants were Jews who emigrated directly from Western and later from Eastern Europe, or those who had first lived briefly in other North American cities. By 1910 the lumber boom was over, and shortly thereafter, the copper boom which had made the Keweenaw Peninsula more populous than even Detroit for a time had settled back to numbers more in line with other smaller iron ore mining towns in the Upper Peninsula. This downward economic trend was even more magnified by the Great Depression of the 30's.

The discovery of copper and iron deposits in the Upper Peninsula in the 1840's had ushered in an era of great prosperity, but it lasted only until the mines and first growth timber were used up. As a result of mine closings and the flagging economy, many immigrant merchants and peddlers of the early part of the century moved to larger metropolitan areas below the Mackinac Bridge or to other areas of the lower Midwest. On the other hand, some Jewish merchants were able to maintain businesses well into the last half of 20th century and either pass them on to descendants or sell the stores to other merchants. In Marquette, the Getzs' clothing store was passed down to children and grandchildren, whereas the William Saulson's People's Store in Munising was sold to non-family members.

Jewish businessmen made themselves both indispensable and popular with the hardworking manual laborers they served. Most did business on a credit basis, aware of the fluctuating paycheck of customers whose livelihoods depended on the mines and the weather. Some gave their stores names that stressed reduced prices, honest trading practices, and connections to their clientele. For example, Saulson, who owned dry goods stores in Seney, Munising, Newberry, and St. Ignace called all his stores The People's Store. The stores in most of these cities are long gone are the descendants of the original owner.

Saulson, a merchant in the central and eastern Upper Peninsula from 1884-1892, was noted as somewhat of a visionary. In a newspaper called The City of St. Ignace, an ad appeared in 1884 featuring a drawing of the Brooklyn Bridge in which he proposed that such a bridge be built across the Straits of Mackinac. The drawing by Saulson was accompanied by a caption: "A Glipse of the Future", though it was seventy-five years until the opening in 1958 of the Mackinac Bridge which was designed and built by another son of Jewish immigrants, David Steinman of New York City.

Beside his prescience and closeness to the working community, Saul was noted as a very observant Jew who kept Jewish traditions and religious rituals as a very public part of his family's life. The newspapers in the towns where his stores existed would run ads during the Jewish Holy Days announcing the closing of the stores. Saulson was also noted as a civic leader in the community. He served as a member of the volunteer fire department, the local lodges, and was a delegate to the Republican County Convention and in1884, was elected to be mayor of St. Ignace.[5]

Not all early Jewish settlers were peddlers or storekeepers. In 1873, one of the first sons of Jewish immigrants to complete his medical studies at Detroit College of Medicine, Dr. Frederick L. Hirschman, settled in the town of Republic as surgeon to the Republic Mine company when a smallpox epidemic was raging. He stayed for many years, traveling by sleigh over deep snows to distant communities in order to make house calls and to deliver babies or to give aid to families with diphtheria and other grave illnesses. Eventually he moved to the town of Norway to direct the Penn Mining Company Hospital until his own death at the young age of thirty-eight. A remembrance in the local paper of 1886 (the Norway weekly Current) reported: "He was at once a physician and a friend… We could account of the many instances of attention where he would receive no remuneration for his services".[6]

Most people on the Marquette Iron Range have known or know of the descendants of Aaron Cohodas. Having left the oppressive, ghettoized conditions in Poland during one of the many eras when Jews were ill-treated, they followed a brother-in-law Sam Weksler to America and to the northern towns of Michigan and Wisconsin. There, the sons of the immigrants were able to spread out to many areas of northern Michigan and Wisconsin. At the turn of the century, though they began as peddlers, the Cohodas brothers became wholesalers of farm produce and eventually bankers and philanthropists throughout northern Michigan and Wisconsin.[7]

But the early days were very rough for peddlers like the Cohodas brothers, many of whom started out selling their goods on foot or by horse-drawn wagon. According to Marquette's Willard (Bill) Cohodas who started as a peddler in the coldest and snowiest part of the northern Upper Peninsula, it didn't seem so hard because it was the norm; it was not unusual for peddlers to ride in freezing temperatures in a horse-driven wagon with heated rocks under their legs and blankets over them.[8]

Although their parents had faced discrimination and exclusion from mainstream society in their former home in Eastern Europe, Bill Cohodas remembers no hostility toward Jews in northern Michigan. Stories told to me by descendants of Jewish settlers from other Upper Peninsula towns indicate, on the whole, the same story of acceptance and integration into the communities where they settled. In fact, the often isolated customers of Jewish peddlers welcomed them into their homes, enjoying the company and the news they brought from other towns.

Initally, the Cohodas family worked at a variety of jobs when they arrived in the Upper Peninsula. Harry was joined by his brother Sam in the retail business in 1915; they eventually became wholesalers of agricultural products, mainly fruits. In 1925, they began to pack and ship under the Cohodas label. Then in 1931 Sam Weksler who was an apple buyer for the Cohodas Brothers' enterprise suggested opening an Ishpeming warehouse close to Marquette and growing fruits for themselves. So after buying up apple and cherry orchards (in the northwest of Michigan), they became growers as well as distributors.[9]

Although among the most well known of early area families, the Cohodas families were certainly not the only immigrant families that were successful merchants in the central Upper Peninsula. Immigrant Louis Getz established Getz's Clothing Store in 1879 in Michigamme, but relocated it to Marquette in 1885 where Robert "Rocky" Getz still owns and manages his grandfather's successful business over 100 years later and is owned by another grandson of Louis, Richard Caden. Ted Reiss, the son-in-law of a successful immigrant merchant Jacob Gartner in Hancock, managed the Selin's furniture store in Marquette located for many years. Many Ishpeming and Negaunee area families were merchants (e.g. the Dubinsky's and Lowenstein's stores lasted beyond the 1970s). Iron Mountain, Iron River, and Crystal Falls' dry goods dealers were mainly owned by immigrant Jewish families and their descendants.

In general, they catered to mining and lumbering families and became very close to the working class families to whom they were essential during precarious economic circumstances because they often gave credit to their customers, taking into account the seasonal nature of their income.[10]

"…most of his business at that period [the 1930s] was on a credit basis; almost everyone in the village owed him money for their groceries, clothing, tools patent medicines, even cattle feed and hay. Of course, it was very difficult for villagers to keep their bill paid in full, but Mr. Casper extended credit to each family based on their needs, for as long as he was able to do so."[11]
John Cumming, another commentator who described the relationship between these small-town businessmen and their customers, stated in a 1972 article in Michigan Jewish History:
"Perhaps the principal contribution of these merchants was that they not only made necessary commodities available to the settlers in these areas but that they brought competition to the towns. In the lumber camps…the people were often at the mercy of the company store and these merchants were able to undersell such stores and make them ineffectual in holding the employees in a bond of debt. The competition also existed between merchants and stimulated skillful merchandising of products to the advantage of the customers."[12]
Jews may have been seen as important and helpful citizens of Marquette Iron Range towns, but they, in turn, felt lucky to live in an area where they enjoyed the freedom to live as Jews and the friendliness and acceptance their neighbors gave them in return; almost all have nostalgic stories of their childhoods to tell - and some, their adulthoods in the Upper Peninsula. It was not discrimination which caused the inevitable migration of many Jews to more economically viable areas after World War II.
Some were forced to leave because of economic downturns and some left because they needed access to educational opportunities not available in the Marquette Iron Range at the time. Almost all of the stories told by former area residents present a view of an area of Michigan which avoided many of the inter-ethnic conflicts common in cities like Chicago as well as the discriminatory relationships or exclusions that Jews suffered in many mainstream American institutions earlier in the 20th century.
Ironically one apocryphal story of discrimination concerned a first-wave immigrant named Louis Kaufman who was probably of German-Jewish descent. He was a man whose public persona revealed no connection to a Jewish identity at all, and yet the rumor persists, true or not, that he was possibly the first recipient of discrimination or exclusion in the Marquette area due to the ethnicity of his ancestors. It is thought by some that he built his magnificent lodge on Lake Superior, Granot Loma, in response to being excluded from membership in the Huron Mountain Club because of his bloodlines.
Religious Affiliations and Traditions
According to one descendant of the original Cohodas brothers, Willard (Bill) Cohodas, who has written histories of the Marquette area Jewish community, the earliest Jewish services held in Marquette County date from the 1920s when the old Eagle's Club building was rented for Rosh Hashanah and Yom Kippur (high holiday) services. The building still exists next door to Lowenstein's store in Negaunee. A rabbi was sent from a theological seminary in Chicago which meant the services were conducted in the orthodox Jewish tradition (old world, Eastern European). In 1942, the services were moved to Ishpeming's old Legion Club. By that time the services were becoming modified to appeal to American-born Jews. The student rabbis were from a seminary in New York.[13]

By the time Temple Beth Shalom was built in Ishpeming in 1952, the services were performed in a manner somewhere between the conservative and reformed Jewish traditions, meaning the liturgy was in English as well as Hebrew, and the congregation sat together (rather than in separate areas for men and women). Today, the congregation is much smaller and many members of the congregation are not originally from this area, but have migrated to the central Upper Peninsula to work as professionals in the academic and medical fields, among others. The services are performed by student rabbis from Hebrew Union College in Cincinnati, Ohio who are in training to become Reformed Jewish rabbis.
Philanthropic Heritage of Jewish Settlers from the Central UP
Not only do many of the public buildings in Marquette and Marquette County bear the names Kaufman (Kaufman Auditorium) and Cohodas (Cohodas Building at Northern Michigan University), but so do speakers series and book collections in Northern Michigan University's Olson Library concerning Holocaust Studies and Jewish Studies donated by Willard and Lois Cohodas.

Some of the original immigrant family names may have changed among Jews in the Upper Peninsula, but fortunately, others have remained constant - descendants of the pioneering families of the Marquette-area Jewish communities. Some have names like Cohodas or Getz, others have names less recognizably related to first-generation families because of marriage, but many are active in keeping this history alive. Bill Cohodas and his wife Lois have given thoughtful gifts to Temple Beth Shalom as well as to NMU's Olson Library to help make history and lessons of tolerance available to younger generations. Certainly many other families have given generous donations of money and time to this area which have served as a source of pride to both Jews and non-Jews.

But now the majority of those active in the Jewish community in Marquette as well as the other sizeable community that remains in the Upper Peninsula, Houghton-Hancock, are the newer migrants, who came to the area, not as merchants, but as professionals in many fields, academics and medicine among the most numerous, and have chosen to raise their families in a beautiful area where ethnic and religious freedom and acceptance have a long tradition.
Conclusion
The history of the Jews in the Upper Peninsula is similar to the history of other ethnic groups and other immigrants. They led a life of hardship and struggle to establish themselves in a new place and often in a new country, but the rewards, according to descendants of pioneers, are remembrances of acceptance and close-knit communities which made their lives and those of their children successful and fulfilling. They found their niche as peddlers who became merchants and some went on to become professionals and leaders in the community. Some have become leading philanthropists who gave back to their communities as much as the rewards they have reaped.
---
Footnotes
[1]Oscar Handlin, The Uprooted: The Epic Story of the Great Migrations that Made the American People (Boston: Little, 1951), 264.
[2]Nathan Glazer, The New Immigration: A Challenge to American Society, (San Diego: San Diego State P 1988) 2-3
[3]Judith L.Cantor, Jews in Michigan, (East Lansing: Michigan State Press, 2001), 4.
[4]Cantor, Ibid, 4.
[5]Ibid. 34-35.
[6]Ibid. 37.
[7]Wilbert H. Treloar, Cohodas: The Story of a Family, (Marquette: Northern Michigan University P) 54-55.
[8]Willard Cohodas, personal interview, June, 2007.
[9]Treloar, Ibid. 36-37.
[10]Lee S. Weissbach, Jewish Life in Small-Town America: A History, (New Haven: Yale University P 2005)
[11]Carl Linna, personal communication, May, 2007.
[12]John Cumming quoted in George P. Graf, The People of Michigan, (Lansing: Michigan Department of Education) 105.
[13]Cantor, Judith L. Jews in Michigan. East Lansing: Michigan State Press, 2001.
Bibliography (works cited and references not cited)
Cantor, Judith L. Jews in Michigan. East Lansing: Michigan State Press, 2001.
Cohodas, Willard. "The Beginnings of Temple Beth Shalom in Marquette County," Michigan Jewish History, 43/2008, pp29-31.
Elstein, Rochelle B. "The Jews of Houghton-Hancock and Their Synagogue," Michigan Jewish History, 38/1998, pp. 2-10.
Friedlander, Alex E. From Suwalki to St. Ignace: A History of the Rosenthal, Reinartz, Blumrosen, Winkelman and Related Families, Vol. 1&2. Brooklyn, N.Y: Breakaway Productions, 2003
Frimodig, David M. Keweenaw Character: The Foundations of Michigan's Copper Country. Lake Linden, MI: John H. Forster Press, 1990.
Graf, George P. The People of Michigan. Lansing: Michigan Department of Education State Library Services, 1974.
Katz, Irving. The Beth El Story with a History of the Jews in Michigan Before 1850. Detroit: Wayne State University Press, 1955.
Payant, Katherine B.and Toby Rose. The Immigrant Experience in North American Literature: Carving Out a Niche. Westport, Conn: Greenwood Press, 1999.
Treloar, Wilbert H. Cohodas: The Story of a Family. Marquette: Northern Michigan University Press, 1997.
Weissbach, Lee S. Jewish Life in Small-Town America: A History. New Haven: Yale University Press, 2005.
Interviews
Cohodas, Willard. Personal Interview. June, 2007.
Getz, Robert "Rocky". September, 2007.
Greifer, Eleisha. Personal Interview. 23 July, 2007.
Linna, Carl. Personal letter. 2007.
Miller, Muriel. Personal Interview. August, 2007.