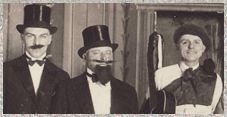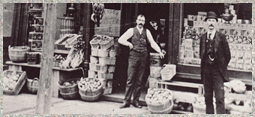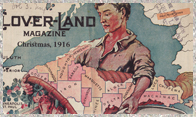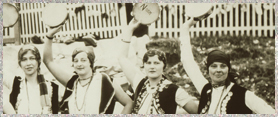 Swedish Migration and Settlement in Marquette County
By: Rebecca J. Mead
NMU Department of History
Reasons for Migration
In nineteenth and early twentieth centuries, Sweden was a politically and economically progressive country, but religious persecution and economic dislocation motivated 1.2 million Swedes to migrate to the United States one-fourth of them between 1868 and 1893. A severe famine, crop failures, farm consolidation, and enclosure displaced almost half of Sweden's farmers by 1870. They were attracted to the United States because of employment opportunities, the Homestead law, which allowed any poor person to claim land for farming, and the encouragement and support of families and friends who had already immigrated ("chain migration").

In general, Swedish migrants prior to 1900 preferred to farm, but better agricultural opportunities existed farther west, so many continued on to Wisconsin, Minnesota, and the Plains States. Those who did not have even the minimal resources needed to homestead first sought wage work and saved their money, relocating later to farming areas. The late nineteenth century was a time of rapid economic growth in the United States, punctuated by several depressions, the most severe occurring in 1893. Opportunities for work in resource extractive industries like lumbering, fishing, and mining brought many Swedish migrants to Michigan, particularly Upper Peninsula. Most found employment in mining, lumbering, fishing, shipping, railroad construction, while others provided food, housing, and other commercial, cultural, and social services. Swedish migrants were crucial in the development of the resources in the Upper Peninsula, as many were experienced miners or timberworkers in Sweden.[1]
Early settlement in Marquette County
Marquette County had a total of 1,013 Swedish born residents in 1870, 2673 in 1880, 4303 in 1890, 3190 in 1900, 2766 in 1920, and 1469 in 1930, but these numbers do not include populations of American born inhabitants of Swedish heritage, of whom there would be many in the later decades. Swedish immigrants settled throughout Marquette County, with the town of Marquette as the area's primary harbor and commercial center, providing opportunities for those who worked in shipping and fishing. In addition, some Swedish migrants to the region were excellent engineers and artisans like carpenters, blacksmiths, and toolsmiths and were attracted to larger towns with more diverse economies. An early biographical survey of Marquette County located 23 notable locals, including 2 builders and contractors, 1 editor, 1 physician, 1 mining foreman, 1 section boss, and 17 merchants, 5 of them in the saloon business. In 1870, sixty-seven Swedes lived in Marquette. Almost 800 lived in Ishpeming, a town that became the focal point of early Swedish immigration into the area due to the demand for mine labor.[2]

The first large group of Swedes arrived in Ishpeming in 1868. Ispheming, has been described as a "mother colony for Swedish settlements and groups in other parts of the country," because of outmigration from that town to other areas. Often, those attracted to this area already had experience in mining. For example, more than 600 persons from the copper mining regions of Atvidaberg moved to the Ishpeming area, some as early as the 1860s, but mostly during the 1870s. Some people left Ishpeming when new mining areas opened up elsewhere in the Upper Peninsula or when they lost their jobs in the depressions of the 1870s and 1890s, while others sought land for homesteading. From Ispheming, Swedes moved to other local mine locations in Negaunee, Republic, Champion, Michigammee, and Clarksburg, the Copper Country, and the Gogebic Range (Bessemer and Iron Wood), the Menominee Range (Norway and Iron Mtn), the ore docks in Marquette and Escanaba (Delta County). Many kept going west, seeking farmland in Wisconsin, Minnesota, or as far away as Idaho and California. One of Ishpeming's residents was John Eric Sjöberg or Seaborg, a master mechanic from the ironworks at Hällefors, who emigrated in 1867. Many years later, Seaborg's grandson, Glenn Theodore, carried on the family's scientific and technical traditions as a Nobel Prize winning chemist, although the family moved to California in his youth.[3]

Some Swedish immigrant homesteaders remained in the area, however, as the initial focus on mines and woods began to shift to farming and other uses of the cut-over areas by the mid-1880s. Many settled in several small logging and farming clusters around Skandia and West Branch townships, located approximately fifteen miles south of Marquette. With one of the largest concentrations of Swedes in the state of Michigan, "Skandia" (meaning "Little Scandinavia") received its name because of the large Swedish population. Many of the men began working in lumbering, mining, or railroad jobs; they saved their money and bought a little land to farm on weekends and during the summer. Most of the community's inhabitants logged in the winter and farmed the rest of the year, usually root crops (rutabagas and potatoes), hay, or dairy farming. Their choice of land was determined more by its proximity to local markets than by its productivity, so some of the communities that developed were as transient as the surrounding mining and lumbering towns.

Many of the lumber towns in the area are gone today, but there are residents in the Carlshend area still remember when it was a thriving community. Settlement began in 1884 when a group of ten Swedish families filed homestead claims. The first, Ole Halverson, was in fact a Norwegian who initially went to Ishpeming in 1884 to work in the mines, then moved on to Carlshend where he used a hollow log for a temporary shelter. The post office was established in 1894, and the Munising Railroad came through in 1896. For awhile the town's future as a logging and farming community seemed promising. In 1915, the Ispheming journal, Superior Posten, described a thriving place, with the post office, two stores, a sawmill, a church, and four passenger trains stopping daily at the local depot. Carl P. Johnson, who owned a large farm nearby, gave his name to the town and became the first postmaster. (It was originally supposed to be "Carlslund" meaning "Carl's Grove," or "Carl's Land," but a misspelling in the official paperwork inscribed the mistake.) Not much remains today. In 1976 all mail service in Skandia was reorganized under a single location and zip code but the government allowed the people to keep the name. In 1984, a centennial reunion attracted more than 600 visitors from around the country.[4]

Gustaf Hallmark Bahrman was another of the area's earliest settlers. Bahrman came to Michigan after serving in the Union Army during the Civil War because the federal government offered land to ex-soldiers in exchange for the script used to pay them instead of cash. Bahrman built a log cabin and eventually married his housekeeper. His brother, Veking, joined him about five years later, walking from the docks in Marquette accompanied by a cow. Veking eventually left and moved to Marquette where he worked as a molder, but the Bahrman potato and dairy farms still operate in Skandia Township. Many of the other descendents of early Swedish settlers still live in the area.[5]

Skandia was a very homogenous ethnic community, but mining towns generally were not. In Ishpeming in 1870, for example, the population was overwhelmingly foreign born, with Swedes 18 percent of the population, Irish 30 percent, English 27 percent, and 5 percent American born persons. In addition to ethnic conflict, there were also tensions between populations of stable, family-based, permanent citizens and the younger, often transient male workers. Mining companies in Michigan promoted community stability in various ways, mostly by encouraging families to settle and build local institutions such as churches and schools. Yet one could be a saloonkeeper and still be considered a respectable citizen, like August A. Anderson who once intervened in a fight in his bar between Swedish and Irish customers that resulted in the Swedish bartender shooting and killing one of the Irish patrons. Anderson rushed out from his office in the back and was able to prevent further violence, and probably because of his skill in handling such conflicts he was later appointed sheriff.[6] Saloons proliferated in mining communities with large numbers of young male workers because they provided a place for social interaction and political discussion as well as relaxation and refreshment, but these important—if troubled—functions are often overlooked or ignored by disapproving observers.
Swedish Cultural Institutions: Churches
For the more stable elements of the population, local Swedish churches were the heart of their communities, although congregations usually started out very small and isolated locations made it hard to attract and to keep regular clergy. In rural communities particularly, Swedish churches offered a place where homesick immigrants could find social as well as religious support. Services were usually performed in Swedish well into the 1930s, when they began to switch to English in order to appeal to younger generations of Swedish Americans. Sunday schools, clubs, choral societies, and other affiliated groups were popular, and holidays were times for traditional celebrations. Churches could also be the sites of contention, however. The Lutheran Church was the official state-supported religion in Sweden, so members of other denominations often emigrated seeking religious freedom in the United States. Dates of organization of Swedish churches reveal the general pattern of settlement throughout the Upper Peninsula. Ishpeming organized the first Swedish Lutheran church in 1870, Calumet and Michigamme in 1877, Escanaba in 1879, Iron Mountain in 1880; Marquette and Republic in 1881; Wallace and Bark River in 1883; Manistique and Menominee in 1885, Ironwood in 1887, Hancock, Gladstone and Bessemer in 1889; Crystal Falls and Norway in 1890, and eleven more throughout the Upper Peninsula in next decade.[7]

In Ispheming, the Reverend N.T. Winquist came to preach in 1868, and became the first pastor of the first Swedish church in Ispheming, Bethany Lutheran Church. Bethany was formed in 1870 in an explicit attempt to bring civilization to the rough woods, and its tough inhabitants. Given the large Swedish population of the town, the church grew over time and was at one point considered to be "the strongest church of the Augustana [Lutheran] Synod." In 1873, a visiting pastor, Aron Lindholm, reported that "In and around Ishpeming there are about 100 mines and in almost all of them you will find Swedes," but the mobility of the population depressed church membership In Marquette, Lindholm found "A large number of Swedes are situated there of which some have their own property and are planning to stay." Lindholm was pleased that the Baptists had made little progress among staunch Lutherans (even though a Swedish Baptist church had been established the previous year), but he ran into trouble with the "free-thinkers." Visiting mining towns on Sunday afternoons, Lindholm found that most of the men were "the kind who like to spend their Sundays in the taverns. When someone came to preach God's word they would not go to listen but would gather outside to ridicule. God have mercy on these fools who are influenced by their glass of brandy and the gambling dens." Apparently, his preaching was cut short on at least one occasion by threats of violence. The congregation struggled with pastor problems throughout the century, but the church itself grew consistently, dividing from the Norwegian members to form into two churches in 1881 and building a school and a new church. By 1920, however, a church anniversary volume lamented the loss of young members to urban migration and older persons to death and illness.[8]

Other important Swedish American churches in Ishpeming were the Mission Covenant Church (now United Evangelical Covenant Church), established in 1879, the Swedish Baptist Church, established in 1872, and the Swedish Methodist church, established in 1873. Like the town itself, Ispheming churches often served as a base from which members who lived in smaller towns could start their own churches. For example, in Republic local Swedish Baptists were unwilling to attend the local Swedish Lutheran church (officially organized in 1883; a Swedish Methodist church was established in 1885) and grew tired of traveling 20 miles to attend services at the Ispheming Baptist Church. In response, that church's pastor, Rev. A.A. Hammar began traveling to Ishpeming in 1884, assisted by several local lay-preachers, and in November 1891 they were recognized as a separate church. Unfortunately, the terrible depression of 1893 struck the new group very hard. As men began leaving to find work elsewhere, the congregation dwindled, and plans for building a church had to be postponed until 1901. By 1916, however, the continuing exodus of many of the young people of the community made it harder to obtain the services of even student pastors and by 1937, only four members remained. By then, the Swedish Lutheran church had closed, and the Swedish Methodist Episcopal church held only two services a month with a handful of members. Between 1892 and 1938, Republic's population had declined by half and become predominately Finnish.[9]
Community Organizations: Clubs, Lodges, and Associations
Immigrants to the United States founded an amazing array of clubs, lodges, benevolent associations, and women's groups for a wide range of cultural, social, educational, and political purposes. These organizations offered collegiality, educational and cultural opportunities, and status. Benevolent societies gave concrete assistance in times of trouble by providing sick benefits and funeral expenses. Because they also offered an alternative for those who objected to the powerful influence of religion and local churches, these organizations frequently drew the hostility of the Swedish clergy, especially when they sponsored "questionable" entertainments, like dances. Nationally, one of the most important of these organizations was the Vasa Order (est. 1898), which had 72,000 members in over 400 lodges by 1928. In 1925, Ispheming had two chapters Ishpeming, Lodge No. 196 and the Monitor Lodge No. 163 (one for men, one for women). At their peak in 1910, Swedish American organizations in the United States had at least 100,000 adult members, while there were approximately 365,000 Swedish American church members. The tensions between secular and religious groups broadened over time, however, as elites firmly rejected religious pietism and poorer people found that the societies did not have much to offer them.[10]

A distinct class bias was evident in these groups. They were initially formed in towns by educated and economically successful immigrants, later arrivals, or people who rejected the image of primitive frontier fundamentalism. Prior to 1900, most Swedish immigrants were not wealthy or well educated, and usually they came from isolated rural areas which were not well integrated as part of a "national" Swedish culture. In the United States, Swedes were aggressive assimilators, and for those who were eager and able to drop the old ways for the joys of middle-class life, membership in these societies soon became a badge of status and success. Rather ironically, in the 1890s Swedes who had been focused on assimilation belatedly began to rediscover and celebrate their rich ethnic heritage, and many of the smaller societies were explicitly dedicated to preserving Swedish language and culture. Many of the cultural traditions they "preserved" were in fact "invented" or at least modified to suit new needs. For example, the Lucia Christmas festival on December 13 was NOT widely celebrated in Sweden, except among the more affluent. The more traditional ceremony is the Christmas Eve Julotta service, which was still being celebrated in some areas into the late twentieth century (usually in a mixture of English and Swedish).[11]

The first predominantly Swedish group, the Scandinavian Benevolent and Social Society, was organized in 1872 in Ishpeming. Eventually, the group became primarily a benevolent society, but evidently it had a focus initially because many "free-thinkers" welcomed a social alternative to the church. As early as 1873, the Marquette Mining Journal reported the activities of several different groups: the Scandinavian Church Society hosted a benefit concert and a ball at Anderson's Hall in April; in June, the Scandinavian Home Guards (Swedish army veterans) were "out drilling several evenings of each week" and there was interest in establishing a Swedish language newspaper. Beginning in the 1870s and expanding over the years, local groups in Ishpeming also included the Scandinavian Church Society, Scandinavian Hall, the Swedish Home Society No. 1, the Swedish Lutheran Young People's Hall, the Scandinavian Juniors, the Swedish Red Ribbon Club, the Swedish United Sons of America, the Scandinavian Fraternity of America, and the Swedish Crown Society. Nearby Negaunee and Marquette also hosted similar halls, lodges, societies, and clubs. Many of these were technically "Scandinavian" organizations, but local Scandinavians were mostly Swedes until large numbers of Finns began to arrive in the area in the 1890s.[12]
Community Organizations: Newspapers
As in many other immigrant communities, another community staple was the Swedish language newspaper. Swedish immigrants were usually literate, interested in current events both in America and in Sweden, and they appreciated a good newspaper. In the Upper Peninsula there were Swedish language papers in Calumet, Escanaba, Iron Mountain, Ironwood, Manistique, and Menominee. In Ishpeming, Conrad Carlson began editing a weekly Swedish language newspaper, the Svenska Posten (The Swedish Post), in 1882. After Carlson moved to Bessemer, the paper was edited briefly by a Mr. Bertilson under the name Forposten ("The Outpost"). The paper later became the Superior Posten "The Superior Post," edited by Nathanael Mortonson and ceased publication in 1918. In general, Swedish language papers were hard-hit during World War One, partly because they were considered pro-German (their languages and Lutheran religious affiliations were similar) and also due to declining language skills among subsequent generations.[13]

Marquette County has been home to many generations of Swedish Americans. The tendency of Swedish immigrants to assimilate rapidly and work very hard has led many observers to marvel at their success in achieving upward mobility. To a certain extent, however, this process has entailed the loss of cultural traditions brought with the original immigrants from their homelands, and the decline of ethnic community institutions. This process is common to many ethnic groups, especially as later generations become "Americanized" and assimilated into the dominant U.S. culture. Nevertheless, most Americans today are well aware of their own ethnic backgrounds, take pride in the accomplishments of their immigrant ancestors, and retain some aspects of their ethnic heritages, especially holiday traditions and food. So when I make meatballs or coffeecake, I still use the recipes I learned from my Swedish grandmother long ago, but like many contemporary Swedish Americans, I think I will pass on the lutefisk. This dish consists of dried fish, usually cod, which is soaked in lye for a week or so to a Jello-like consistency, soaked for a couple more weeks to remove the poisonous alkali, then cooked and served with butter. For obvious reasons, the dish itself is not very popular nowadays—although you can still find it served in a few places at community suppers around Christmas time--but its savory memory still lingers in Swedish American humor, stories, and song.
---
Footnotes
[1]The information for this paper has been gleaned from a variety of sources, including a number of conversations with and materials provided by local Swedish American residents, for which I want to thank them all very much. For general background on Swedish migration to Michigan good sources are Allan Kastrup, The Swedish Heritage in America (St. Paul: North Central Publishing Company, 1975), and Harald Runblom and Hans Norman, eds., From Sweden to America: A History of the Migration (Minneapolis: University of Minnesota Press, 1976). For Swedish Americans in Marquette County, see the Marquette Mining Journal, 22-24 Jan. 1931 (reports of presentations to the Marquette County Historical Society by Dr. O.H. Bostrom, pastor of Messiah Lutheran Church), 13 May 1948, and Escanaba Daily Press, 23 March 1941. See also Arnold R. Alanen, "Ethnic and Immigrant Groups in Marquette County, Michigan" in William H. Mulligan, Jr., ed., Historical Resources of the Iron Range of Marquette County (1991) available at the Marquette County Historical Society.
[2]Marquette Mining Journal, 22 Jan. 1931.
[3]Marquette Mining Journal, 22-24 Jan. 1931.
[4]Skandia Township, Skandia Township Centennial (Ann Arbor: Braun-Brumfield, Inc., 1992); and West Branch Township, West Branch Township Centennial History (Ann Arbor: Braun-Brumfield, Inc., 1995). I am also grateful to Mr. Ardy Johnson, a local historian and direct descendent of C.P. Johnson, for his conversations with me on the history of Carlshend.
[5]"The Barhman Family: First Settlers in Skandia," in Skandia Township Centennial, pp. 207-213.
[6]Marquette Mining Journal, 23 Jan. 1931.
[7]Ispheming Iron Ore, 4 June 1938. Other churches were later established in Carney, Dagget, Skandia, Metropolitan, Perkins, Ford River, Newberry, Cedarville, Grand Marais, Dollar Bay and Sault Ste. Marie
[8]Marquette Mining Journal, 25 Nov.,2 Dec. 1871, 7 Sept. 1872, 23 Jan. 1931; Bethany Lutheran Church, Jubilee Album 1920 (translated by Ruth Stolen, Gerda Sands, and Helen Bennett), p. 9. Bostrum
[9]Marquette Mining Journal, 23 Jan. 1931; E.O. Ericson, "The Elim Swedish Baptist Church of Republic, Michigan," June 1938 (courtesy of Gregg Wixtrom).
[10]Information on organizations compiled by Russell Magnaghi, NMU Department of History.
[11]In her memoirs, Skulda Banér describes how her father, Swedish American newspaperman and poet, Johan Banér, explained this situation to her. See Skulda Banér, Latchstring Out (New York: Houghton Mifflin Company, 1944), pp. 125-126.
[12]Marquette Mining Journal, 26 April, 14, 21 June 1873.
[13]Marquette Mining Journal,22 Jan. 1931; Escanaba Daily Press, 23 March 1941.